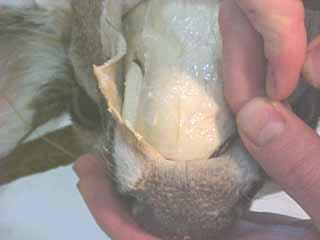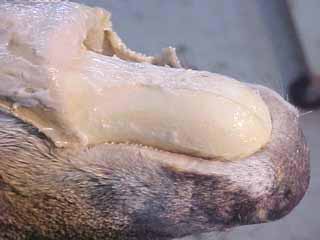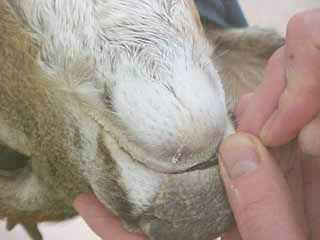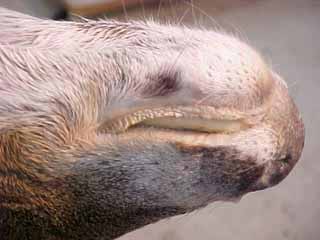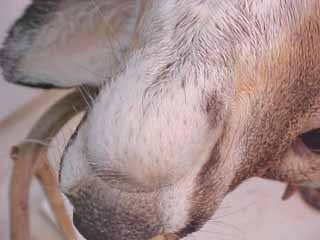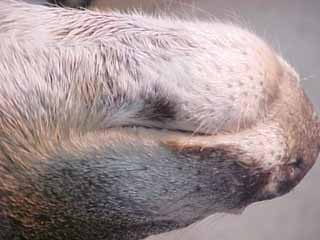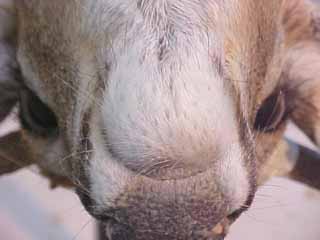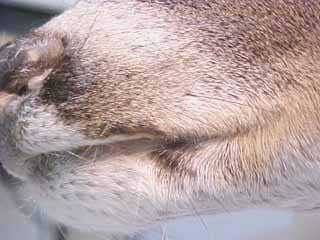 TUCKING DEER LIPS ON ONE OF THE REAL DEER FORMS                          WITH ZANESVILLE, OHIO



           Real Der Forms

           are available from

      Kinston, North Carolina

Phone Toll Free 1-888-527-8722

There are eleven photos illustrating whitetail taxidermy how-to on this page.

"I start tucking the lips by centering up the nose, and then tucking the nose skin.  I then move to the mouth corners and tuck the upper lip section."

"I then finish up tucking the entire upper lip by moving from the nose to the mouth corner.  Next I come back and center the chin and lower lip, then tucking the section that will be the part of the front upper lip that I will leave displayed."

"I work the bottom lip skin into place in the same front to back manner, being sure to keep the markings lined up around the mouth."

The first whitetail  to be mounted on a REAL DEER FORM is now ready to dry.

If you would like to contact Dan for any full service taxidermy, he is available 9 to 5 week days, and during Ohio's deer season at anytime. Phone Dan Jenning's Taxidermy at 1-740-849-2255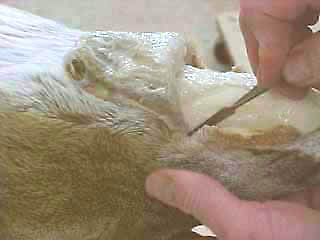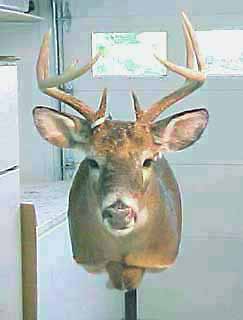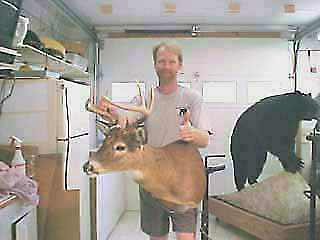 STOP-ROT, a truly versatile and multiple use taxidermy product.

STOP-ROT was developed as an aid in preventing hair and epidermal slip.  STOP-ROT on mammal skins extends the work time of a fresh hide by slowing down or stopping decompositions.  It also helps to prevent freezer burn on frozen specimens. A lot of skins and capes that would normally be trashed can be saved with STOP-ROT. Not only has it been stopping epidermal and hair slips, it has also been improving efficiency of acids in the pickle.  STOP-ROT makes fleshing and turning much simpler, faster and efficient.

Apply as soon as possible after the animal has been skinned. If it is a frozen skin or cape, apply as soon as possible during and after the thawing process.


STOP-ROT is available on-line from high lighted suppliers!

Wildlife Artist Supply Company

WASCO
  (McKenzie) 1-800-334-8012
AEWS Taxidermy Supplies  1-800-529-3470

Taxidermy Arts Supply
TASCO
USA Foxx and Fur  1-800-usa-foxx

Helping Hand Hanger Steve Hall  1-269-948-2246

Jim Allred Taxidermy Supply 1-800-624-7507

SIVKO FUR, INC. 1-607-698-4827

James Taxidermy Supply (formerly Kings)

1-662-286-5133

Quality Taxidermy Supply 1-888-527-8722

***************************************************