Whitetail Deer Eye Reference Photos

Eliminating the distraction of color for dimensional work can make it easier for some of us, with me being one, to determine how to shape such things as the eye lids and area around the eye.

Mirror imaging of left and right side helps improve symmetry also.  You look at your picture for that side, shape it, and go to the other side.  Works for me.

I sized these photos so that the eyes should come out pretty close to lifesize.  That should help you with proportions.

There seems to be this tendency to want to "standardize" deer anatomy.  Isn't that way in real life.  All the area around the eyes as pictured here is "high movement".  The myriad of tiny muscles that are removed at time of fleshing from in front of the eyes should indicate as to how much movement is possible.

Just as brow position can move, eyes open and close, lacrimal gland can be opened and closed, the area between the front eye corner and lacrimal gland is capable of a lot of movement.  It may display a crease, or show no indication of a crease what so ever.  These photos show it at an in between stage.   The amount of crease displayed will depend quite a bit on what the deer's vision focus is.

These photos also show the shape of the front eye corner really well.  Don't miss the extreme close up photo that shows the nictating membrane and
front eye corner
exceptionally well.
I made these pictures from one of the original color photos on the reference photo disk described below:

WHITETAIL DESIGNER SYSTEMS REFERENCE SERIES

High Detail

Short-haired

Whitetail Buck

Eye studies

15 reference photos

stk # wtds pr 31 $12.95

I can do that because I took the photos.

The bumpy looking thing at the top of the lacrimal crease is a fly.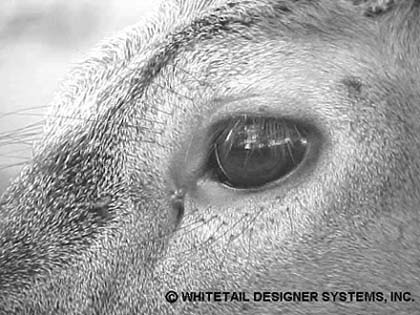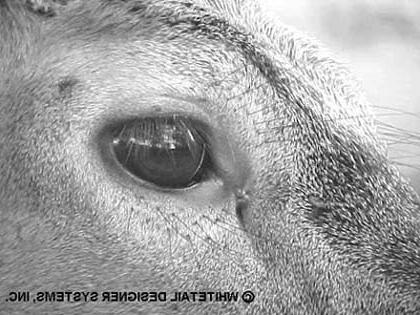 Whitetail deer photos courtesy of

REAL DEER FORMS™ sculptor Glen Conley.

Limitations are that the photos be used solely for your own personal reference use.

A full line of whitetail deer taxidermy reference photos taken specifically for taxidermy applications by Glen Conley are available.  To learn more, click here.  here
     REAL DEER FORMS™

      Kinston, North Carolina

Phone Toll Free 1-888-527-8722