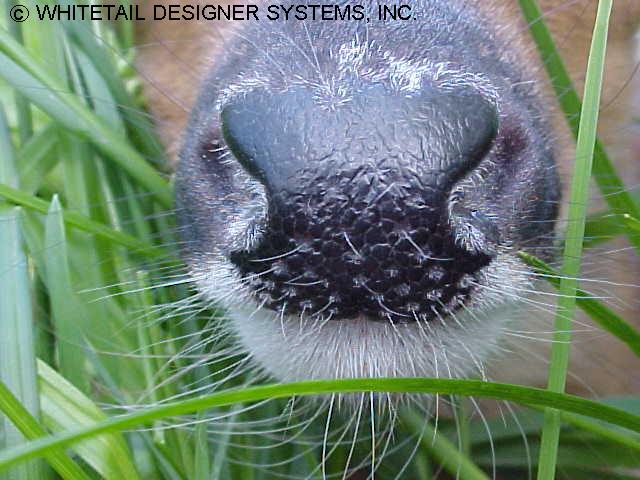 This photo, a favorite of mine, is from the WHITETAIL DESIGNER SYSTEMS reference disk:

Whitetail fawn (small) close-up details

17 reference photos stk. # wtds pr 21 $9.95

This is a photo of a 3 day old whitetail deer fawn's nose.  At this age, a penny will completely cover, and hide, the nose pad.  If it wasn't for the grass blades and the diameter of the chin hair and whiskers being out of proportion with the size of the nose, a person would be hard pressed to determine the age of the deer from the photo.

The placement of the nose pad in relationship to the nostril openings does not change with age.

Deer noses do come in sizes, so to produce accuracy in your mounts, take measurements from the actual nose pad and IF need be, carve, file, sand, OR build up the nose to give you a fit and hair pattern line-up like you see here. 

Test fitting a nose pad can be done just by slipping the muzzle and nose section of the cape over the form.  Easiest test fit you can make.

          Whitetail deer photos courtesy of

REAL DEER FORMS™ sculptor Glen Conley.

Limitations are that the photos be used solely for your own personal reference use.

A full line of whitetail deer taxidermy reference photos taken specifically for taxidermy applications by Glen Conley are available.  To learn more, click here.  here
      REAL DEER FORMS™

      Kinston, North Carolina

Phone Toll Free 1-888-527-8722